Humani generis unitas – a Draft of Anti-racist Encyclical by Pope Pius XI
Aleksandra Polewska

Adam Mickiewicz University in Poznań
Keywords:
draft; encyclical; anti-racist; Pius XI
Abstract
The article tells about a draft for an encyclical planned by pope Pius XI in 1938, which was called Humani generis unitas. The draft text condemned anti-Semitism, racism and the persecution of Jews. The article presents history of this draft, tells about pope's relation to nazi and fascist persecution of Jews and tried answer why the draft never become the encyclical.
References
Cassata, Francesco. 2008. La difesa della razza. Torino: Einaudi.
De Cesaris, Valerio. 2011. "Le reazioni della Chiesa cattolica all'antisemitismo fascista." Annali della Fondazione Ugo la Malfa 26:151-62.
Deschner, Karlheinz. 2006. Polityka papieska XX wieku. Warszawa: Wydawnictwo Uraeus.
Gierowski, Józef A. 1986. Historia Włoch. Wrocław: Ossolineum.
Górnicki, Leonard. 1993. Prawo Trzeciej Rzeszy w nauce i publicystyce prawniczej Polski Międzywojennej (1933-1939). Bielsko-Biała: Wydawnictwo AS.
Grzybowski, Konstanty, i Barbara Sobolewska. 1971. Doktryna polityczna i społeczna papiestwa (1789-1968). Warszawa: Państwowe Wydawnictwo Naukowe.
Hesemann, Michael. 2010. Pius XII wobec Hitlera. Kraków: Wydawnictwo Salwator.
Krasuski, Jerzy. 1969. Historia Rzeszy Niemieckiej 1871-1945. Poznań: Wydawnictwo Poznańskie.
LaFarge, John. 1937. Interracial justice. A Study of the Catholic Doctrine of Race Relations. North Stratford: Ayer Co Publisher.
Lecomte, Bernard. 2010. Tajemnice Watykanu. Kraków: Wydawnictwo Znak.
Miller, Frederic P., and Agnes F. Vandome. 2010. Terrible triangle: Pope Pius XI, Conspiracy of Silence (Church Persecutions), Holy See – Soviet Union Relation, Pope Pius XI and Spain, Divini Redemptoris. New York: Alphascript Publishing.
Nota, Johanes H. 1989. "Edyta Stein a projekt encykliki przeciwko rasizmowi i antysemityzmowi." Znak-idee 1:65-79.
Novak, Michael. 1997. "Papal white papers." The Washington Post, October 19:X04.
Osęka, Piotr. 2010. "Zaczęło się od Ustaw Norymberskich. Początek końca." Polityka, nr 2773:76-79.
Paxton, Robert O. 2005. Anatomia faszyzmu. Poznań: Wydawnictwo Rebis.
Riccardi, Andrea. 2001. Stulecie męczenników. Świadkowie wiary XX wieku. Warszawa: Klub dla Ciebie.
Schneider, Burkhard. 1973. "Una enciclica mancata." L'Osservatore Romano, April 5:5.
Suchecky, Bernard, and Georges Passelecq. 1995. L'encyclique cachée de Pie XI. Paris: La Decouverte.
Suchecky, Bernard, and Georges Passelecq. 1998. The Hidden Encyclical of Pius XI. Boston: Mariner Books.
Turnau, Jan. 2003. "Encyklika nienarodzona." Gazeta Wyborcza, nr 185:23.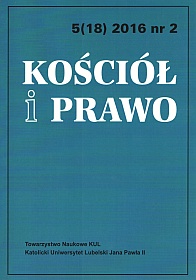 Copyright (c) 2016 Kościół i Prawo
This work is licensed under a Creative Commons Attribution-NonCommercial-NoDerivatives 4.0 International License.