The Role of Crafts in the Development of Women's Entrepreneurship in Rural Areas
Keywords:
rural areas, crafts, local development, rural women, country housewives' associations
Abstract
The aim of the article is to indicate the need for a diagnosis of socio-cultural conditions of running a craft business by women. Local handicraft, culinary traditions, etc. are also an important resource for the development of women's entrepreneurship with a craft profile. The problems of the article include the 'common set' of two research areas: crafts and women's entrepreneurship in rural areas. The focus of the paper will be on the issue of the functioning of crafts in rural areas based on an empirical analysis of the scale of functioning of craft enterprises run by women. Concurrently, the subject outlined in this way is related to other issues, such as counteracting depopulation of rural areas based on the activation of local entrepreneurship. The potential of women's entrepreneurship development in rural areas should also be indicated, among others, by tightening cooperation between Country Housewives' Associations (koła gospodyń wiejskich, KGWs) and crafts organisations.
The social effects of cooperation between crafts and KGWs will result in stimulation of entrepreneurship (especially female entrepreneurship) in rural areas, which will then contribute to rural development. These effects support the creation of new forms of small and medium entrepreneurship corresponding to social economy, which are defined as an element of creative economy. This will trigger the process of creating new jobs and may constitute an important mode of support for vocational education, increasing the chance for the local youth to smoothly enter the labour market. Likewise, the generation of local human and social capital resources cannot be overestimated. By mobilising and integrating key actors in the area, it will contribute to better management of local resources.
References
CEDEFOP (2014). Jak zwiększać szanse zatrudnienia poprzez naukę? Osiągnięcia CEDEFOP w 2013 roku i plany na 2014 rok. https://www.cedefop.europa.eu/files/9086_pl.pdf
Durka, W. et al. (2012). Raport z badania: Sytuacja kobiet w rolnictwie i na obszarach wiejskich. Specyfika, standardy, parytety i oczekiwania. Konsorcjum Badawcze FOCUS GROUP Albert Terelak, Centrum Rozwoju Społeczno-Gospodarczego. https://depot.ceon.pl/bitstream/handle/123456789/15944/Sytuacja_kobiet_w_rolnictwie_i_na_obszarach_wiejskich.pdf?sequence=1&isAllowed=y
Dziekanowska M. (2017). Activity of rural women as a driver of local growth, Acta Innovations, 24, 47–52.
European Parliament. (2014). Od edukacji do życia zawodowego: rezultaty kształcenia i szkolenia zawodowego widoczne na rynku pracy – Briefing.
Göbel, J. (2021, September 30). Dzięsięć faktów na temat rzemiosła. https://www.deutschland.de/pl/topic/gospodarka/rzemioslo-w-niemczech-popularne-miejsca-pracy-i-istotne-fakty
Klimek, S. (2020). Przedsiębiorczość kobiet w Polsce i jej wpływ na rozwój gospodarczy kraju. Difin.
Knapik, W. (2008). Kobieta w wiejskiej społeczności lokalnej. Adam Marszałek.
Michalska, S. (2013). Tradycyjne i nowe role kobiet wiejskich. Wieś i Rolnictwo, 2, 124–139.
Müller, K., & Thomä, J. (2015). Bedeutung der qualifikationsgebundenen Zugangsberechtigung im Handwerk für die Funktionsfähigkeit des dualen Ausbildungssystems. Research report. Deutsches Handwerkinstitut. https://www.econstor.eu/bitstream/10419/191822/1/ifh-gbh-04-2015.pdf
Osiecka-Chojnacka, J. (2007). Szkolnictwo zawodowe wobec problemów rynku pracy, INFOS issue 16, Biuro Analiz Sejmowych.
Skarżyński, M. (Ed.) (2015). Przyszłość edukacji zawodowej: metody modernizacji szkół zawodowych i zwiększania adopcyjności pracowników oświaty. Izba Rzemieślnicza i Przedsiębiorczości w Białymstoku.
Stępnikowski, A. (2016). Kształcenie zawodowe – wyzwania i trendy rozwojowe na świecie, Polityka Społeczna, 9, 36–40.
Council of Ministers (2021, May 19). Government Programme "Polski Inkubator Rzemiosła". Resolution 73/2021.
Piątek, W. (2018). Przedsiębiorczość kobiet w Polsce – stan obecny i perspektywy rozwoju. Akademia Zarządzania, 2(3), 41–53.
Walczak-Duraj, W. (2008). Basic areas of potential involvement of women in social and political life. In J. Krzyszkowski (Ed.), Assessment of the social and professional situation of rural women in Poland. Ministry of Family, Labour and Social Policy.
Wojtkowiak, M. et al. (2014). Kobieta zawodowiec. http://dsig.pl/p/kobieta_zawodowiec.pdf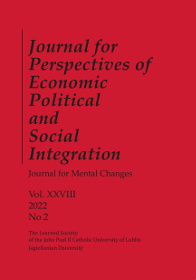 Copyright (c) 2022 Journal for Perspectives of Economic Political and Social Integration
This work is licensed under a Creative Commons Attribution-NonCommercial-NoDerivatives 4.0 International License.