Attitudes Towards Body Organ Transplantation
Keywords:
transplantation, body part, organ donation, values, social perception
Abstract
The authors present the outcomes of a study on attitudes towards donation of one's own body organs to others in case of potential donor's clinical death after an accident. The results showed that life organs (e.g. lungs, liver) are more willingly donated than peripheral ones (e.g. fingers, eyes). Some personal values are positively related to this readiness, whereas religiosity negatively. Further research ideas are proposed.
References
Bolt, S., Venbrux, E., Eisinga, R., Kuks, J., Veening, J, & Gerrits, P. (2010). Motivation for body donation to science: More than an altruistic act. Annals of Anatomy, 192, 70–74.
Bolt, S., Eisinga, R., Venbrux, E., Kuks, J., & Gerrits, P. (2011). Personality and motivation for body donation. Annals of Anatomy, 193, 112–117.
Deci, E. (1975). Intrinsic motivation. Plenum Press.
Demir, B., & Kumkale, T. (2013). Personality-based segmentation: Decision tree analysis of willingness to become an organ donor. Personality and Individual Differences, 55, 63–69.
Dijker, A., de Bakker, E., Benson, S., & de Vries N. (2019). What determines support for donor registration systems? The influence of sociopolitical viewpoint, attitudes toward organ donation, and patients' need. International Journal of Behavioral Medicine, 26(2), 195–206.
Drwal R. Ł., & Wilczyńska J. T. (1995). Opracowanie kwestionariusza aprobaty społecznej (KAS). In R. Ł. Drwal (Ed.), Adaptacja kwestionariuszy osobowości, 57–66.
Gibek, K., Lickiewicz, J, & Serednicki, W. (2017). Personality and religious attitudes and tendency to organ donation. Anestezjologia i Ratownictwo, 11, 152–158.
Hill, E. (2016). Posthumous organ donation attitudes, intentions to donate, and organ donor status: Examining the role of the big five personality dimensions and altruism. Personality and Individual Differences, 88, 182–186.
Hirschberger, G., Ein-Dor, T., & Almakias, S. (2008). The self-protective altruist: Terror management and the ambivalent nature of prosocial behavior. Personality and Social Psychology Bulletin, 34, 666–678.
Huber S. (2003). Zentralität und Inhalt. Ein neues multidimensional es Messmodell der Religiosität. Leske + Budrich.
Katz, H., Blekher, M., & Bosh, D. (2018). It is all about control: Understanding reluctance to register for organ donation. Nonprofit and Voluntary Sector Quarterly, 48(3), 665–680.
Łaguna, M., Lachowicz-Tabaczek, K., & Dzwonkowska, I. (2007). Skala samooceny SES Morrisa Rosenberga – polska adaptacja metody [The Rosenberg Self-esteem Scale: Polish adaptation]. Psychologia Społeczna, 2, 164–176.
Maccoby, E., & Jacklin C. (1974). The psychology of sex differences. Stanford University Press.
Morciniec P. (2009). Bioetyka personalistyczna wobec zwłok ludzkich. Redakcja Wydawnictw Wydziału Teologicznego Uniwersytetu Opolskiego.
Rosenberg, M. (1965). Society and the adolescent self-image. Princeton University Press.
Steenart E., Crutzen R., & de Vries N. (2018). The complexity of organ donation registration: Determinants of registration behavior among lower-educated adolescents. Transplantation Proceedings, 50(10), pp. 2911–2923.
Triandis, H. C., Bontempo, R., Betancourt, H., Bond, M., Leung, K., Brenes, A., … de Montmollin, G. (1986). The measurement of the etic aspects of individualism and collectivism across cultures. Australian journal of Psychology, 38(3), 257–267.
Wilson, E. (2000). Sociobiology: The new synthesis, twenty-fifth anniversary edition. Harvard University Press.
Zaleski, Z. (1979). Stan cywilny a ocean wartości. Przegląd Psychologiczny, 22, 709–730.
Zaleski, Z. (1996). Future anxiety: concept, measurement and preliminary research. Personality and Individual Differences, 21, 165–174.
Zaleski, Z., & Triandis H. (1988). Indywidualizm ¬– kolektywizm Polaków. Porównania międzykulturowe. Wykłady z psychologii w KUL, 89, 127–144.
Zalewski, Z. (2010). Problematyka "zgody domniemanej". In Stefan Bednarz (Ed.), Etyczne aspekty transplantacji: materiały konferencji naukowej odbytej w ramach małopolskiego "Partnerstwa na Rzecz Transplantacji" (October 9, 2009). Okręgowa Izba Lekarska.
Zarzycka, B. (2007). Skala centralności religijności S. Hubera. Roczniki Psychologiczne, 10, 133–157.
Zarzycka, B. (2011). Polska adaptacja Skali Centralności religijności S. Hubera. In M. Jarosz (Ed.), Psychologiczny pomiar religijności (pp. 231–261). Towarzystwo Naukowe KUL.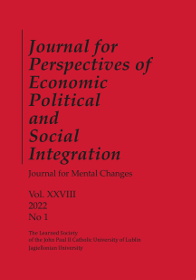 Copyright (c) 2022 Journal for Perspectives of Economic Political and Social Integration
This work is licensed under a Creative Commons Attribution-NonCommercial-NoDerivatives 4.0 International License.