An interlocking-directorates monitoring system
Marek Pawlak

John Paul II Catholic University of Lublin, Poland
Keywords:
Interlocking directorates, board of directors, database
Abstract
The subject of the study was interlocking directorates in Polish joint stock companies. In order to explore this area a monitoring system has been developed which consists of a database and query system. Data is automatically introduced from printed announcements into the MySQL database using PHP scripts.
The phenomenon of interlocking directorates in Polish joint stock companies is comparable with other countries. Board members in Poland are significantly younger than, for example, in the USA. Women constitute an important group of board members. Insurance companies and investment funds are closely connected with other companies, but banks are not.
The monitoring system developed enables us to identify who is, and who was, a board member of every joint stock company. It also enables us to identify, for every person, which board he or she now serves on, and has served on, in the past. The system also enables us to produce different reports concerning, for example, changes in certain indexes in subsequent years. The system is also accessible via the Internet.
DOI: 10.2478/v10241-012-0005-7
References
Barbi, V. (2000). Interlocking directorships networks: what is relevant for the evolution and change of the networks? University of Siena, Department of Economics, Working Paper No. 278.
Bianchi, M., Bianco M., Enriques L.(2001). Pyramidal Groups and the Separation Between Ownership and Control in Italy. The Control of Corporate Europe, edited by Fabrizio Barca, Marco Becht, Oxford University Press, New York.
Brayshay, M., Cleary M., Selwood J. (2006). Power geometries: Social networks and the 1930s multinational corporate elite. Geoforum, Vol. 37 pp. 986-998.
Brickley, J. A., Linck J. S., Coles J. L. (1999). What happens to CEOs after they retire? New evidence on career concerns, horizon problems, and CEO incentives. Journal of Financial Economics, Vol. 52 pp. 341-377.
Burris, V. (1991). Director Interlocks and the Political Behavior of Corporations and Corporate Elits", Social Science Quarterly, Vol. 72, Number 3, pp. 537-551.
Carroll, W. K., Alexander Malcolm (1999), Finance Capital and Capitalists Class Integration in the 1990s: Networks of Interlocking Directorships in Canada and Australia. Canadian Review of Sociology & Anthropology, Aug, Vol. 36 Issue 3, pp. 331-354.
Fich, E. M., White L. J. (2005). Why do CEOs reciprocally sit on each other's boards? Journal of Corporate Finance, Vol. 11, Issues 1-2, pp. 175-195
Fich, E. M., Shivdasani A. (2007). Financial fraud, director reputation, and shareholder wealth, Journal of Financial Economics, Vol. 86 pp. 306-336.
Harford, J. (2003). Takeover bids and target directors' incentives: the impact of a bid on directors' wealth and board seats, Journal of Financial Economics, Vol. 69 pp. 51-83.
Hughes, M., Scott John, Mackenzie John (1977). Trends in Interlocking Directorships; An International Comparison. Acta Sociologica (Taylor & Francis Ltd), Vol. 20 Issue 3, pp. 287-292.
Jiraporn, P., Kim Y. S., Davidson, W. N. (2008), Multiple directorships and corporate diversification, Journal of Empirical Finance, Vol. 15. Issue 3, June, pp. 418-435.
Mac Canna, L., Brennan, N., O'Higgins E. (1998). National Networks of Corporate Power: An Irish Perspective, Journal of Management and Governance, Vol. 2, Issue 4, pp. 357-379.
Ong, C. H., Wan, D., Ong, K. S. (2003). An Explanatory Study on Interlocking Directorates in Listed Firms in Singapore, Corporate Governance, Vol. 11, Num. 4, October, pp. 322-334.
Robins, G., Alexander, M. (2004). Small Worlds Among Interlocking Directors: Network Structure and Distance in Bipartite Graphs, Computational & Mathematical Organization Theory, Vol. 10, pp. 69-94.
Scott, J. (1991). Networks of Corporate Power: A Comparative Assessment Annual Review of Sociology, Vol. 17 Issue 1, pp. 181-203.
Theisen, M. R. (2000). Der Konzern. Betriebswirtschaftliche und rechtliche Grundlagen der Konzernunternehmung. Verlag C. E. Poeschel, Stuttgart.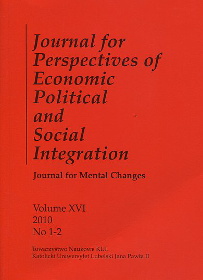 Copyright (c) 2011 Journal for Perspectives of Economic Political and Social Integration
This work is licensed under a Creative Commons Attribution-NonCommercial-NoDerivatives 4.0 International License.