Strategic interests of the European Union
Anna Antczak

Towarzystwo Naukowe KUL
Keywords:
European Union, strategic interests, Common Foreign and Security Policy
Abstract
Main challenges for the European security policy are caused by the creation of new states, nationalisms and ethnic problems, enforcement of religious fanatics, globalisation of economy as well as a threat of huge migration from poorer parts of the world to Europe. The most important issue, from the perspective of the European role in the world, is the "shift of gravity" – towards Asian countries and new economic powers. The importance and interest in Europe diminishes and floats towards so called Asian Tigers, and Europe seems helpless facing the changes. The article aims at presenting the EU's strategic interests as well as show difficulties in creating common foreign and security policy. Identification of strategic fields of interest of the EU may seem easy and obvious, but the realization of common policy appears to be problematic or even impossible due to too distant objectives of the member states and their particular national interests. Nevertheless, the article discusses specific EU interests in the Middle East, Asia and Africa as well goes into the analysis of EU-NATO (USA) relations and importance of this cooperation.
DOI: 10.2478/v10241-012-0001-y
References
Antczak A. (2009), The Mediterranean dimension of Spanish national defence policy, "Defence and Strategy" No 1/2009, Strategic Studies Institute of Brno Defence University.
Brzeziński Z. (2007), Second Chance: Three Presidents and the Crisis of American Superpower, Basic Books, New York 2007 (the author used the Polish language version, Warsaw 2008).
Geest W. van der, Benini R. (2005), The European Union's Strategic Interests in East Asia; Study on the economics and politics of East Asian Cooperation and in particular China's role in this process: Challenges and Opportunities for EU Policy; European Institute for Asian Studies, Brussels.
Górka-Winter B. (2006), Misja Unii Europejskiej w Demokratycznej Republice Konga, "Biuletyn PISM" No 44, Warszawa.
Grevi G. (2008), The EU and global governance: rules, power and priorities, Rome.
Howorth J. (2007), Security and Defence Policy in the European Union, Palgrave Macmillan.
Huntington S. (1996), The Clash of Civilizations and the Remaking of World Order, Touchstone, New York (the author used the Polish language version, Warsaw 2003).
Kapuściński R. (2007), Rwący nurt historii, Wydawnictwo Znak, Kraków.
Kolodziej E. (2005), Security and International Relations, Cambridge University Press, Cambridge.
Larrabee S., Green J., Lesser I., Zanini M. (1998), NATO's Mediterranean Initiative: Policy Issues and Dilemmas, RAND Monograph Report.
Medeński M. (2003), Polityka bezpieczeństwa Niemiec w świetle zagrożeń terroryzmu międzynarodowego, Wydawnictwo Adam Marszałek, Toruń.
Pabst M. (2008), Building Peace and Security – An Assessment of EU Efforts of Capacity-building and ESDP Operations in Sub-Saharan Africa, "Foreign Policy in Dialogue", vol. 8, issue 24.
Pietrzak P. (2001), Polityka bezpieczeństwa zjednoczonych Niemiec, Wydawnictwo Adam Marszałek, Toruń.
Reddy S., Minoiu C. (2006), Development Aid and Economic Growth. A positive Long-Run Relation, "DESA Working Paper" No. 29.
Schieder S. (2008), Trade and Development in EU-Africa Relations, "Foreign Policy in Dialogue", vol. 8, issue 24.
Schmidt S. (2008), Towards a New EU-African Relationship – A Grand Strategy for Africa?, "Foreign Policy in Dialogue", vol. 8, issue 24.
Soetendorp B. (2002), The EU's Involvement in the Israeli-Palestinian Peace Process: The Building of a visible International Identity, "European Foreign Affairs Review", vol. 7, issue 3.
Vasconcelos A. de (2007), Security for Africans, "ESDP Newsletter" No. 5.
Yost D. (2003), Debating security strategies, "NATO Review".
Zaborowski M. (2008), A common approach to the neighbourhood, Institute for Security Studies, Warszawa.
Zięba R. (2000), Europejska Tożsamość Bezpieczeństwa i Obrony, Wydawnictwo Naukowe SCHOLAR, Warszawa.
Zięba R. (2001), Instytucjonalizacja bezpieczeństwa europejskiego, Wydawnictwo Naukowe SCHOLAR, Warszawa.
Zięba R. (2005), Wspólna polityka zagraniczna i bezpieczeństwa Unii Europejskiej, Wydawnictwo Sejmowe, Warszawa.
Zięba R. (2008), Bezpieczeństwo międzynarodowe po zimnej wojnie, Wydawnictwa Akademickie i Profesjonalne, Warszawa.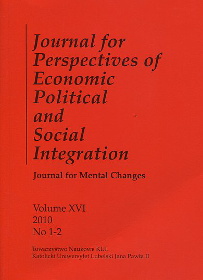 Copyright (c) 2011 Journal for Perspectives of Economic Political and Social Integration
This work is licensed under a Creative Commons Attribution-NonCommercial-NoDerivatives 4.0 International License.